To fully utilise Xbox Live features, you'll need to make sure your NAT types is Open; not Moderate or Strict.
The official port listing for Xbox Live has a large selection of ports you should open, but in practice it seems you only really need to open one, the Xbox Live port 3074 (TCP/UDP)
You could use UPnP, but there are negative security implications.  The 4 step method below works without the risk of adding UPnP to your Opnsense setup.
Steps
Give the Xbox a static IP.
(I prefer to set static leases via Opnsense rather than the device)
Setup firewall alias's for the static Xbox and the Xbox Live port
Forward the Xbox Live port to the static Xbox
(with NAT reflection / hairpinning)

Check auto created firewall rules

Allow outbound NAT from the static Xbox
Set static IP on LAN for Xbox
Opnsense > Services > DHCPv4 > Leases
Set the IP to something outside your pool of regular DHCP addresses or you could have a conflict in the future.
Create Xbox Live TCP/UDP port Alias.
Opnsense > Firewall > Alias
Create Alias for Xbox static IP
Opnsense > Firewall > Alias
It's a good idea to use an alias for devices as descriptive names are easier to work with and remember. It also allows the IP of the device to be changed and you not have to edit any existing firewall rules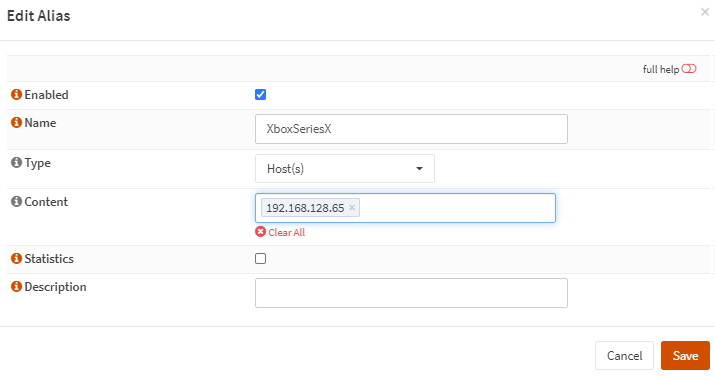 Port forward Xbox live to the Xbox
Opnsense > Firewall > NAT > Port Forward
Port Forward – NAT Reflection: Enable
NAT Reflection (sometimes called hairpinning) detects the traffic to the public IP is actually from a device inside the local LAN and re-writes the flow of the traffic using the internal IP.
Port forward rule complete
Check auto created firewall rules
(As the rule is autogenerated you cannot edit it directly, only delete it)
Allow outbound NAT
Opnsense > Firewall > NAT > Outbound
First, set and save the mode to "Hybrid"
Outbound NAT – Static Port: ticked
By default Opnsense will rewrite and randomise the source port on outgoing traffic. This is to reduce IP spoofing and prevent fingerprinting of the devices behind the firewall. Also, when there are many devices trying to connect to the same remote IP and port, the randomness allows NAT to properly segregate and handle these connections to different LAN clients
Xbox Live is particularly picky about the source port being what it expects (3074, unless you have altered it in the settings) If you happen to not tick 'Static Port' you will be given a NAT type of Moderate on Xbox Live as the packet filter will assign a random port which Xbox Live does not like.
Outbound NAT rule complete
Reference