Technical summary: Yes, SDXC SD Cards work in the Dell Latitude E6xxx laptops.
I've been using Windows 8 for a good few months now and I really like it. There is one feature I really missed when looking over the OS details and that was previous versions.
Previous Versions used a snapshot technology taken from the Server line of Microsoft operating systems. It worked by regularly taking a snapshot of the files and their state so if you accidently deleted one or incorrectly edited it you could get it back. The best part was it was transparent and worked seamlessly behind the scenes, it was also very easy to use and worked well for non-technical users too.
Windows 8 evolution of Previous Versions is called File History, and it works very well. It's only niggle for a laptop user is that it requires a separate disk to store the snapshotted information (Although this addresses the negative point of Previous Versions that if your main disk died, you couldn't use that technology to recover files, they were gone! Requiring File History to use a different disk to your operating system makes it a more robust tool in your backup regime)
A feature of nearly every laptop I've owned or used that has been overlooked by me has been the SD Card slot. This is probably because until recently SD Cards were small in size (less than 32GB) and expensive in terms of price per GB, especially compared to USB flash drives. Thankfully this has changed with SD Card technology moving on from SDHC for cards 4GB -> 32GB to SDXC for cards up to 2TB!
So, why not use a large (64GB+) SD Card as my Windows 8 File History drive in my laptop? It seemed to offer great benefits: dedicated drive, large space for my working files, easy to implement and easy to transfer to a different machine if my laptop died. The only negative concern was compatibility.
My current laptop is a Dell Latitude E6510 and nowhere could I find reports of people using a 64GB SDXC card in the machines built in card reader. In the end I took a chance and ordered a 64GB SanDisk Ultra SDXC UHS-I Card.
I'm pleased to say it works very well and offers me a good deal of historical versioning from the Windows 8 File History feature.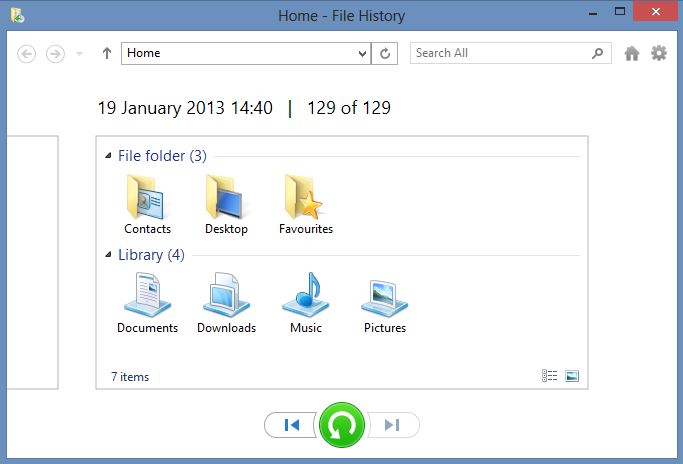 I would presume that newer models like the e6520 and e6530 with SD Card readers will also support the larger SDXC cards.